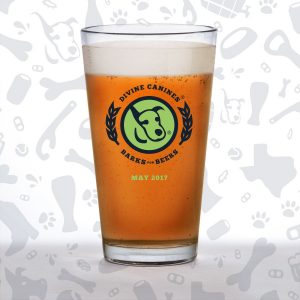 May 1- May 31
It's back and better than ever! Divine Canines is proud to announce our fourth annual Barks for Beers. Come enjoy Austin's beer scene, meet fellow dog- and beer-lovers, and toast the tail waggers that make Divine Canines possible!
We're partnering with 30 of Austin's finest craft breweries for a fun, community event for you and your favorite drinking buddies, your dogs!
Participating breweries:
4th Tap Brewing Co-Op
Adelbert's Brewery
The ABGB
Austin Beerworks*
Blue Owl Brewing
Bluebonnet Beer Company
Circle Brewing Co.
Friends and Allies Brewing
Hi Sign Brewing
Hops and Grain
Idle Vine Brewing Company
Independence Brewing Co.
Infamous Brewing Co.
Jester King
Last Stand Brewing Co.
Lazarus Brewing Company
NXNW – Slaughter
NXNW – Stonelake
Oasis Texas Brewing Co.
Oskar Blues Brewery Austin
Red Horn Coffee House & Brewing Co.
South Austin Brewery
St. Elmo Brewing Co.
Strange Land Brewery
Thirsty Planet*
Thousand Oaks Brewing Co.
Treaty Oak Brewing & Distilling Co.
Twisted X Brewing Co.
Whitestone Brewery
Zilker Brewing Co.
Just buy a special Divine Canines pint glass, then for the entire month of May, take your glass (and accompanying "pawsport") to any or all of the breweries listed above to get free beer! Each brewery will be giving one free pour, so check out as many as you can.
*Glasses not available for purchase at this location
You can purchase glasses for $20 at the participating breweries* during the event, or in advance (starting April 17) at these local retailers:
Copeland Jewelers
Mud Puppies (both locations)
Woof Gang Bakery (Austin and West Lake Hills locations)
Proceeds from the sale of the glasses will go directly to Divine Canines.
We look forward to seeing you out at the breweries with your 2- and 4-legged friends! Be sure to check out our Barks for Beers Instagram account for photos, prizes and more. And tag #barksforbeers as you check out each brewery!